The reception at Art on the Ridge, held May 11, was great fun, with crowds coming through all evening and lots of dialogue. "Splash" seemed to be the artists' favorite, with "Walk a Dusty Road" coming in second with several viewers. If you couldn't make it that night, the show is still on through May -- and bring some friends -- and I'd love to hear your feedback and answer any questions.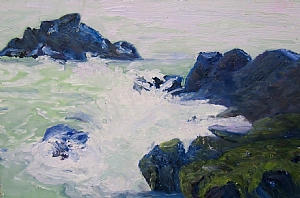 "Splash!"
Meanwhile, back at the studio, and in the classroom and field, I'm excited to feel free of several old painting challenges. Two years ago, I was on a merry-go-round, going someplace, but not far, and always circling back with frustration at again facing the same barriers. Then, I started painting a lot more after years of very part-time painting, and found the merry-go-round going faster. A year ago, I started carefully choosing and taking workshops, classes and mentoring in earnest. This was my ferris wheel phase, going further, but still in a circle and then, in a widening circle. Now, I'm in a roller coaster stage, a more interesting ride, and very exciting because I feel a sense of freedom coming on that can only happen when we have the experience, knowledge and skills to jump the tracks and fly on our own power. If you've been on a passionate career or or other quest for awhile, you might know these stages too, or something like them. No matter what we have inside us that's pushing to be born, it looks like tenacity is the key to shouldering and thinking our way through all of the walls that appear in the path to that place we most consider worth going.
While my own path is one fraught with challenges of composition, value, color and more, yours may be of a different set of knowledge and skills. There's no such thing as that myth of being born as an artist, a ready-made competence -- or at the very most, perhaps aside from Monet or Da Vinci (but even they worked hard for their skills!). Most of us will never reach greatness at our passion, though, no matter how hard we work. The bar is plenty high enough, and rewarding enough, to just be on our way to our own personal best.
Watch my web site to see what you think of my painting in the roller coaster phase, soon to start posting. Then, tell me what you think. Who knows, maybe you'll hear the scream when I jump!